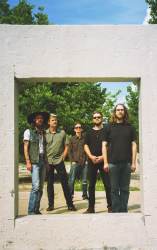 Crafts & Drafts & U.S Tygers November residency with Special Guests: Smokestack Relics & STARJAMMER!
Free Show! Free Arts and Crafts show!
Time: 6:45pm Day: Thursday Doors: 5:45pm Ages: 21+ Ages Price: FREE
This Event Has Ended
U.S Tygers November Residency Night 3 With Special Guests - 
Smokestack Relics
Starjammer - Avant Garde/Dub-Reggae with Squiddius J Madden!
Crafts and Drafts Vendors Market!

US Tygers are ending their November residency with a hell of a party! There will be a Free Crafts & Drafts showcase! 
Crafts and Drafts is one of the most unique arts and crafts shows to hit Denver is hitting the stage at 3 Kings tonight! Check out vintage wares, handmade crafts, art and MORE! Crafts kick off at 7pm.

US Tygers have also invited Smokestack Relics & Starjammer (with Squidds Madden!) To join in the extravaganza! 


U.S. Tygers:
https://ustygers.bandcamp.com/
Comin' at ya' with that Hashville sound. Rock n' roll band from Denver, CO.

Smokestack Relics:
https://www.reverbnation.com/SmokestackRelics
Smokestack Relics play Swamp Rock. They enjoy collecting dead bugs on their van's windshield and mud on the bumper while venturing from show to show.

Starjammer:
The Starjammer is a sound-ship. It is fueled by imagination, reggae and coffee. It's mission: to explore the unknown realms of creativity, pushing the boundaries of time, space and attention span. Hosted by Squiddius J Madden.