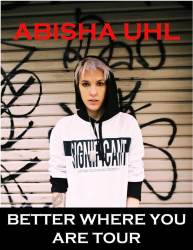 Better Where You Are Tour with Abisha Uhl (Sick of Sarah), The Bright Silence & Tyto Alba
Time: 8:00pm Day: Friday Doors: 7:00pm Ages: 21+ Ages Price: $5
This Event Has Ended
Friday November 24th:
Abisha Uhl (Formerly of Sick Of Sarah)
The Bright Silence
$5 - 9pm

Abisha Uhl:
https://www.youtube.com/watch?v=m8AEBl0yvVE
Abisha Uhl, who had founded and fronted Minneapolis based female band Sick of Sarah since 2005, has recently started a new solo career.

Abisha has had quite the upbringing. She was born in Bahrain and moved to Okinawa, Japan at nine months old and got her start playing drums before switching to guitar. After graduating from high school, she moved to Minneapolis, Minnesota and founded Sick of Sarah. Sick of Sarah has the distinction of being one of the most torrented bands of all time, having been featured on the BitTorrent Artist Spotlight. She has been touring bothNationally and Internationally ever since. 

Abisha's signature sound is mostly rock with indie and punk influences. Her lyrics speak maturely and sometimes humorously of love and loss or sometimes nothing at all, but regardless of the topic, Abisha will sing every song like it's the greatest thing anyone has ever heard and perform like there is no tomorrow.

The Birght Silence:
https://thebrightsilence.bandcamp.com/
Colorado born singer Kevin Johnston founded Bright Silence (which MTV's John Norris calls "Rousing, anthemic and remarkably intimate") in Brooklyn in 2010. Emerging from NYC's open-mic-singer/songwriter scene, Johnston has performed original songs on Jimmy Kimmel Live, worked with Kjartan Sveinsson (Sigur Ros) singing a 2-month-long piece of music at NYC's New Museum and performed to a sold-out Red Rocks crowd with Ian Cooke Band paying tribute to Prince. Between frequent European tours, long stays in Germany and the release of their sophomore album Time Is New (w/ guitarist Kirk Schoenherr & bassist Tim Lappin of Chet Faker aka Nick Murphy) and drummer Zach Jones (Sting, Secret Someones, A Great Big World). The new Denver chapter of Bright Silence are excited to be digging back into the Colorado music scene in support of Time Is New which Bandwagon Magazine calls "wide-eyed, optimistic, frequently lifting into pure moments of rapture".

Tyto Alba
https://tytoalbaband.bandcamp.com/
Denver, CO-based epic indie band that is Melanie Steinway (guitar, vox), Matt Rossi (guitar), Danny Dimarchi (bass, hype man), Andrew Beir (drums).