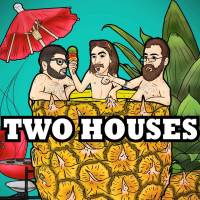 Two Houses, Jack's Smirking Revenge, BlackDots & State Drugs
Free!
Time: 9:00pm Day: Saturday Doors: 8:00pm Ages: 21+ Ages Price: FREE
This Event Has Ended
Saturday January 13th:
Two Houses (Chicago!)
Jack's Smirking Revenge
BlackDots
State Drugs
FREE! 
Doors 8pm
Music 9pm
21+

Two Houses:
https://twohouses.bandcamp.com/
Triumphant sad bastard music. Reliable rock n' roll from Chicago.
"There is absolutely nothing that can compare to seeing this band live." -For The Love Of Punk
"It is currently the best EP I've heard all year." -Punktastic

Jack's Smirking Revenge:
http://jackssmirkingrevenge.bandcamp.com/
JSR started in a bedroom in 2008 as an outlet for singer/guitarist Alex Pelissero to complain about his 19 year old problems, like heartbreak and capitalism. People compared the songs to Billy Bragg a lot. It morphed into a full electric band around 2012 and has continued to play dive bars and sweaty garages, except now we sing about late 20-something problems, like back problems and the crippling terror of existence. Just kidding,they're still heartbreak and capitalism.

BlackDots:
https://blackdots.bandcamp.com/
When a baby's born, I can't help but think about the parents. Are they ready? Do they know what they're getting into? Is that kid sorta fucked or sorta blessed? Same goes with bands where you already know their genealogy before the needle hits the groove. April Froschheuser was/is in Vena Cava. John was in The Achievement: two so-honest-it-aches bands that I've spent weeks-worth of spins listening to over the years. Black Dots sounds like a wise democracy that's figured out its infrastructure before putting up flashing signage. Three principle songwriters. Two principle singers—vacillating between Florida ex-pat Wade and John—topically ranging from teenage depression-cutting to "the journey vs. the top of the mountain" headspace of an isolated band playing in Denver. In the background, on the blacktop in the distance, I hear Rumbleseat, Tim Version, long drives to find sympathetic souls, and small, semi-hidden tattoos being way more meaningful than sleeves of brightly-colored ink. Like little black dots. Worth seeking out. –Todd Taylor, Razorcake


State Drugs:
https://statedrugs.bandcamp.com/releases
Grown up Denver Punk Rock.